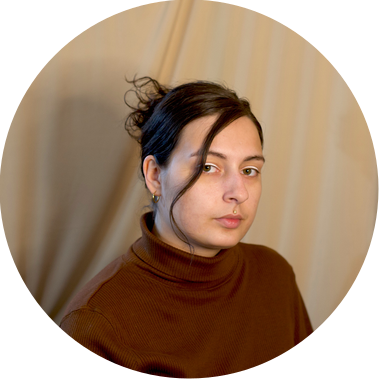 Noel Maghathe is a queer, mixed Palestinian-American performance installation artist. Maghathe creates and performs with queer functional tools to navigate the world. Their practice focuses on their Palestinian heritage and the occupation of Palestine, their love and pride for their country, and sharing the pain of occupation and their longing for their country to educate their audience.
Maghathe holds a Bachelor of Fine Arts in photography with a minor in sculpture from the Art Academy of Cincinnati in 2017, where they were awarded the Stephen H. Wilder Traveling Scholarship, a grant awarded to two graduating seniors each year. With this award, Maghathe traveled to Palestine to perform with other queer artists, including Rawand Aqel in the streets of the old city of Birzeit and Shukri Lawrence from Trashy Clothing in Jerusalem.
Maghathe is featured in EMERGENCY INDEX: An Annual Document of Performance Practice, Volume 9. They currently create work in their studio based in Cincinnati, Ohio, and co-instigate unique art experiences at PIQUE art experience and bed-and-breakfast with Lindsey Whittle, Annie Brown, and Clint Bassinger.
| noelbmmaghathe@gmail.com | 513.488.0282 |
Education:
2017 - Art Academy of Cincinnati. B.F.A., Photography / Sculpture
Solo Exhibitions & Performances:
2021 - I Will Wait Basketshop Gallery, Cincinnati, OH
2018 - Breath Canticle Farm, Oakland, CA
2018 - On my head PIQUE, Covington, KY
2016 - stars between my nails PIQUE, Covington, KY
Select Group Exhibitions & Performances:
2022 - Artist-Run Spaces Contemporary Arts Center, Cincinnati, OH
2022 - Cringe Theatre Contemporary Arts Center, Cincinnati, OH
2021 - Enduring Apocalypse Abrons Arts Center, New York, NY
2021 - Indigenous Peoples Day Art Exhibit 21C Museum, Cincinnati, OH
2021 - 3way Art Expo, Hangzhou, China
2021 - Hafla at RAWIfest Mizna, Minneapolis, MN
2021 - Transmission Basketshop Gallery, Cincinnati, OH
2020 - Secret ArtWorks House Party ArtWorks, Cincinnati, OH
2019 - The Sloppy Show Art Academy of Cincinnati. "Cincinnati, OH
2019 - AAC150 Art Academy of Cincinnati, Cincinnati, OH
2019 - Lean Contemporary Arts Center, Cincinnati, OH
2019 - Not For Sale Anytime Dept, Cincinnati, OH
2018 - Laws of the Game Mockbee, Cincinnati, OH
2018 - Color Theory The Comet, Cincinnati, OH
2018 - Knead The New School, New York, NY
2018 - Grape Tree Art Academy of Cincinnati, Cincinnati, OH
2018 - American Grape Tree PIQUE, Cincinnati, OH
2017 - METOO Mockbee, Cincinnati, OH
2017 - Unrest Art Academy of Cincinnati, Cincinnati, OH
2017 - 30th Annual Minumentals Exhibition Art Academy of Cincinnati, Cincinnati, OH
2016 - It wasn't me PIQUE, Covington, KY
2016 - W8 Mockbee, Cincinnati, OH
2015 - Correlation Contemporary Arts Center, Cincinnati, OH
Curatorial Projects:
2022 - Amid Wavepool, Cincinnati, OH
2021 - Perform-A-Rama 2021 PIQUE, Covington, KY
2019 - Perform-A-Thon 2019 PIQUE, Covington, KY
2019 - LAWN PIQUE, Covington, KY
2017 - Still There Playhouse, Cincinnati, OH
Residencies:
2023 - Ma's House's Artist-In-Residency Ma's House, Shinnecock Indian Reservation in Southampton, NY
2022 - Activate: Tarot Maelstrom Collaborative Arts, Cleveland, OH
2022 - Curatorial Residency Wavepool, Cincinnati, OH
2021 - Activate Maelstrom Collaborative Arts, Cleveland, OH
2021 - TROC Peer-to-Peer Trocadero Art Space, Melbourne, AU
Grants:
2022 - Truth and Reconciliation Grant ArtsWave
2017 - Stephen H. Wilder Traveling Scholarship Art Academy of Cincinnati
Publications:
2021 - Q&A with Alumni Noel Maghathe, Artacademy.edu
2020 - Emergency Index Vol. 9
2018 - Q&A with Wilder Winner Noel Maghathe, Artacademy.edu